Good morning, my friends and welcome back! I've missed you more than you know, but I'm really glad to be back with you. Last week, I traveled with my family to Fripp Island in South Carolina — don't worry, we rarely left the house we stayed at, and ventured out only to the beach — so I thought I'd share why I was off the radar for a few days: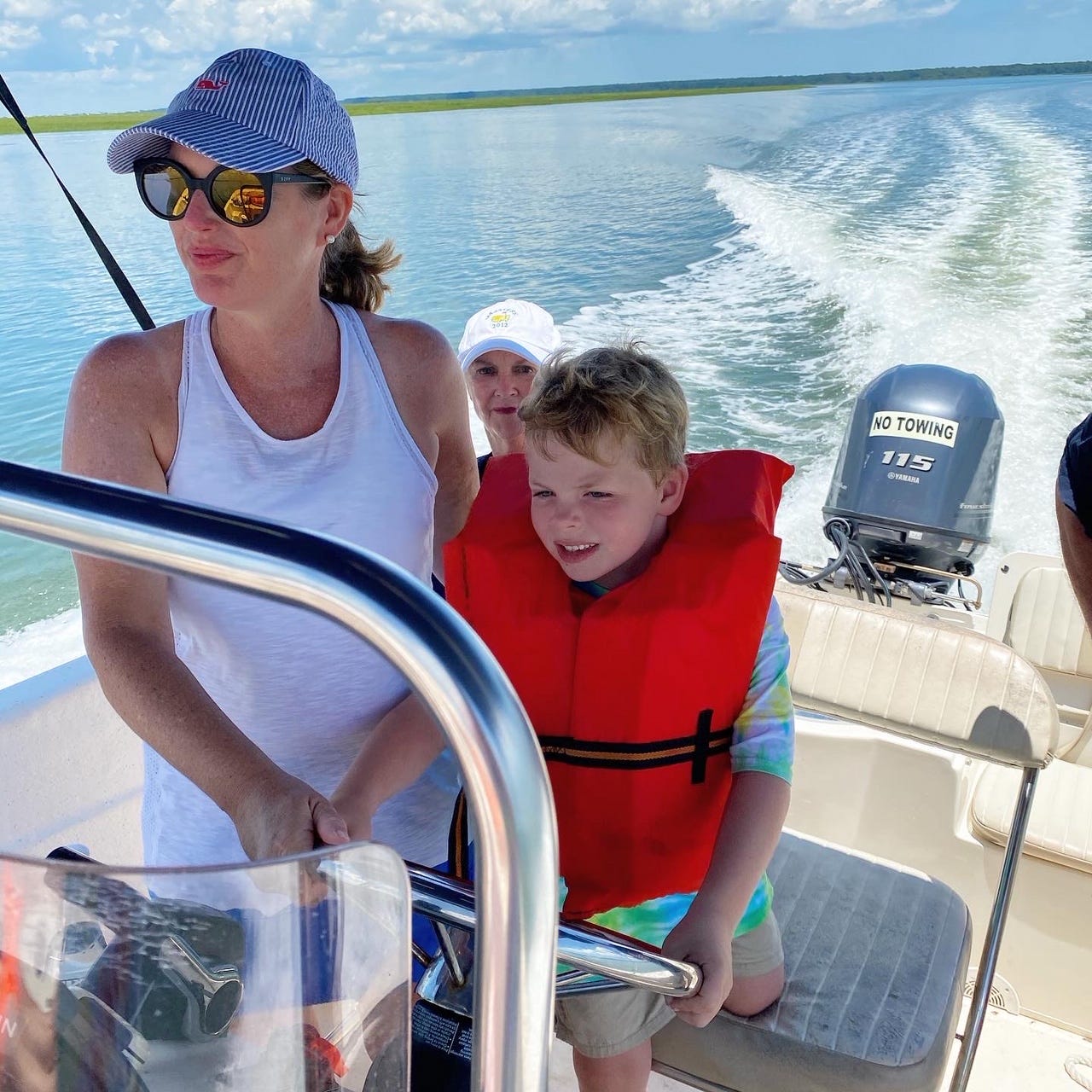 The last photo above is Mrs. T and our little man, taking his turn at piloting the little skiff boat we took out for an afternoon ride on the marsh last Friday.
It was great to get away, especially from the asphalt jungle that is Atlanta. But, while I got some running in, I did not keep up with my own training schedule as I should have, and so I find myself behind where you likely are.
That's okay, though. It happens to all of us during a training cycle; unless you have a schedule you can control completely and no time commitments to anyone other than yourself, we're all going to stray from the path from time to time. That's why I find comfort in these words:
"Write it on your heart that every day is the best day in the year. He is rich who owns the day, and no one owns the day who allows it to be invaded with fret and anxiety. Finish every day and be done with it. You have done what you could. Some blunders and absurdities, no doubt crept in. Forget them as soon as you can, tomorrow is a new day; begin it well and serenely, with too high a spirit to be cumbered with your old nonsense. This new day is too dear, with its hopes and invitations, to waste a moment on the yesterdays."

— Ralph Waldo Emerson
---
So, is everyone ready to add more miles to our schedules this week? (If you're not, that's okay; there's a good chance I won't today, and will add more later in the week.)
But if you're game, here's how our training schedule will advance this week:
Tuesday, July 14 — 5 miles

Thursday, July 16 — 5 miles

Saturday, July 18 — 6 miles

Sunday, July 19 — 2-3 miles
How is the progress you've making over the past week? I'd love to hear more, and how you're tackling the heat — which is getting really difficult to deal with now, especially as we're sweltering under a heat wave here in the south.
I hope you go out there and have a great 5-mile run today — don't forget to let me know how it goes. 👍
— Terrell
🏖️ A quick note on training — if you have the chance, run on the beach this summer. It's more of a workout and absorbs the shock of your feet pounding the ground better than harder surfaces like roads; it'll force you to think and work harder on your run.
---
A song to run to today
"Yorktown (The World Turned Upside Down)" from the album Hamilton by Lin-Manuel Miranda.
(Confession: we've been watching the musical nonstop since it was released on Disney+ last week, so I haven't been able to get this song out of my head!)
Want to hear all the songs we include in our newsletters? Listen to our full playlist on Spotify here, which contains 6 hours, 56 minutes of music to run to.